Posts for tag: nutrition
By Lynch Dental Center
December 13, 2019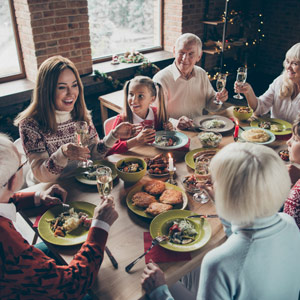 'Tis the season to be merry—and with plenty of edible goodies! During the holidays, families fill their homes with all sorts of delectable treats for friends and loved ones. But there can be unintended consequences with all this joyous feasting, and not just added pounds come January: eating more sugar could increase your risk for dental disease.
We're not here to throw a wet blanket on your holiday fun. Instead, we have 4 commonsense tips to help you keep your holiday snacking from ultimately causing tooth and gum woes.
Blend in healthier choices. The problem with sugar is that it's a prime food source of disease-causing oral bacteria. The more sugar available in the mouth, the more these bacteria multiply and increase the disease threat to your teeth and gums. So, try reducing sugar by adding savory treats like nuts or flavored popcorn to your sweeter offerings. And don't forget cheese and other dairy—eating dairy products along with sweets can help blunt some of sugar's effect on bacteria.
Avoid "grazing." While it's tempting to do so during the holidays, continuous snacking increases the mouth's acidity, which is like Superman's kryptonite to your tooth enamel. The longer acid directly contacts your enamel, the more it can soften it and open the door to tooth decay. Saliva neutralizes after-meal acid; but if you're constantly snacking, you could prevent saliva from completely buffering the acid present. So, limit your snacking time—or better yet, reserve your sweet treats for mealtime.
Don't neglect your hygiene. The hectic pace of the holidays can interfere with people's normal routines. Don't let that happen to your daily practice of brushing and flossing. These essential hygiene tasks clean your teeth of a disease-causing biofilm called dental plaque. Miss a few days and the accumulated plaque could trigger an infection that could damage your gums and ultimately your teeth. You can help avoid this by brushing and flossing every day.
Don't brush right after eating. The mouth's acidity naturally increases during and just after eating. As we alluded to earlier, saliva's on the job getting the mouth back to a more neutral state and reducing the effect of acid on enamel. That takes about an hour, though, and in the meantime your enamel may be in a slightly softened state. If you brush right after eating, you might inadvertently brush tiny bits of enamel. So, wait an hour or so after eating before you brush.
The holidays are all about enjoying friends and family and ringing in the new year. Follow these tips to ensure it's a healthy and happy one for your teeth and gums.
If you would like more information about dental care during the holidays, please contact us or schedule a consultation. To learn more, read the Dear Doctor magazine article "6 Tips to Help Prevent the Erosion of Tooth Enamel."
By Lynch Dental Center
July 22, 2015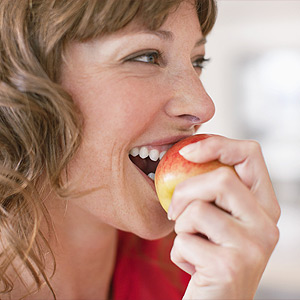 Good nutrition is vital for maintaining health and preventing disease, especially for your mouth. A diet rich in whole foods — fresh fruits and vegetables, protein and dairy products — and low in sugar will not only promote strong teeth and gums, but lessen your chances of developing tooth decay or periodontal (gum) disease.
Diet is also a prominent factor in reducing the risk for another serious mouth disease — oral cancer. While oral cancer makes up only 3% of total cancer cases reported annually, the five-year survival rate is a sobering 50%, much lower than for other types of common cancers. While genetics plays a role in your susceptibility to oral cancer, lifestyle choices and practices present the greater risk factors for the disease.
Of these lifestyle factors, refraining from tobacco products, moderating your alcohol consumption and avoiding risky sexual behavior are of primary importance in reducing your cancer risk. With that said, you should also take into account the foods that are part of your daily diet — both what you should and shouldn't eat. As an example of the latter, some foods contain a class of chemicals known as nitrosamines that are carcinogenic (cancer-causing). One such chemical, nitrite, is used as a preservative in meats like bacon or ham, and may also be found in beer, and seafood products.
On the positive side, your diet should be rich in foods that supply antioxidants, substances that protect the body's cells from damaging, unstable molecules known as free radicals. The best sources for antioxidants (more so than dietary supplements) are plant foods rich in fiber and vitamins C and E. Eating more of these may also reduce your intake of nitrates, animal fat and saturated fat.
Adopting a moderate, nutritious diet, along with exercise, can have a huge positive impact on your general health and quality of life. Along with other lifestyle changes, better dietary choices can also help ensure a healthy mouth and reduce your risk of oral cancer.
If you would like more information on the role of nutrition in reducing your risk of oral cancer, please contact us or schedule an appointment for a consultation. You can also learn more about this topic by reading the Dear Doctor magazine article "Diet and Prevention of Oral Cancer."
By Lynch Dental Center
October 28, 2013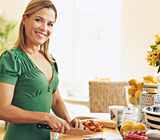 Junk food and between-meal sweets are a habit for many of us, even though we know it is bad for our bodies and our teeth. As adults, we are responsible for our own choices. As parents, we are also responsible for our children's choices, and for teaching them to choose wisely.
Celebrity Chef Cat Cora offers the following six suggestions for leading children to a healthy lifestyle. Cora is a star of Iron Chef America and author of Cat Cora's Classics with a Twist: Fresh Takes on Favorite Dishes, in which she reveals healthier versions of classic recipes. In her remakes she shows how to cook with a lot of flavor while reducing fat and sugar. Cora has four young sons, so her methods are not just theories — they have been practiced in real life.
1. Remember who's the boss.
"My kids have never had fast food," Cora said in a recent interview with Dear Doctor magazine. "The parents have a choice to do that or not," she said. "The kids are not going to the grocery store to shop; the kids are not driving themselves through fast food chains."
2. Make your rules clear and stick to them.
"Right now my 7-year-old tries to be picky, but it's really about us being consistent as parents," Cat said. For example, in her household pizza is served only at the weekly pizza and movie night. The kids get a healthier version of what they want, so they don't feel deprived. The evening includes air-popped popcorn without butter — and no soda, which is bad for teeth because of its sugar and other chemical ingredients.
3. Offer your children a variety of foods and tastes.
Cora made sure her children tried different foods and spices from infancy, so they are open to trying new things. It's easier to get all the nutrition you need if you eat a wide variety of foods.
4. Learn to make tasty substitutions for sugar.
When her children were babies, Cora stopped relying on bottles and sippy cups as soon as possible, reducing her children's likelihood of developing tooth decay due to sugary residues remaining in their mouths. Now that they are older, she uses tasty substitutes for sugar such as fruit purees and the natural sugar substitute Stevia.
5. Include the children in meal planning.
Kids are more likely to eat a meal they are involved in planning and cooking. For example, ask them which vegetable they would like to have (not whether they want to have a vegetable).
6. Model healthy behavior for your kids.
Parents are the best role models. This is true not only for food choices, but also for exercise and maintaining a healthy lifestyle.
Contact us today to schedule an appointment to discuss your questions about oral health. You can also learn more by reading the Dear Doctor magazine article "Cat Cora."