Posts for tag: gum recession
By Lynch Dental Center
April 26, 2021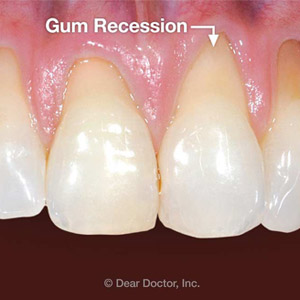 If it seems like your teeth are getting longer as you get older, it's unlikely they're magically growing. More likely, your gums are shrinking or receding from your teeth. Besides the negative effect on your appearance, gum recession exposes you and vulnerable tooth areas to harmful bacteria and painful sensitivity.
Although common among older adults, gum recession isn't necessarily a part of aging: It's primarily caused by periodontal (gum) disease, in which infected gum tissues can weaken and detach from the teeth. This, along with bone loss, leads to recession.
But gum disease isn't the only cause—ironically, brushing your teeth to prevent dental disease can also contribute to recession. By brushing too aggressively or too often (more than twice a day), you could eventually damage the gums and cause them to recede. Tobacco use and oral piercings can also lead to weakened or damaged gums susceptible to recession.
You can lower your risk of gum recession by abstaining from unhealthy habits and proper oral hygiene to prevent gum disease. For the latter, your primary defense is gentle but thorough brushing and flossing every day to remove harmful dental plaque. You should also see your dentist at least twice a year for professional dental cleanings and checkups.
If, however, you do experience gum recession, there are a number of ways to restore your gums or at least minimize the recession. To start with, we must treat any gum disease present by thoroughly removing all plaque and tartar (calcified plaque), which fuels the infection. This reduces inflammation and allows the gums to heal.
With mild recession, the gums may rejuvenate enough tissue to recover the teeth during healing. If not, we may be able to treat exposed areas with a tooth-colored material that protects the surface, relieves discomfort and improves appearance.
If the recession is more advanced, we may still be able to stimulate gum regeneration by attaching a tissue graft with a micro-surgical procedure. These types of periodontal surgeries, however, can require a high degree of technical and artistic skill for best results.
In any event, the sooner we detect gum disease or recession, the quicker we can act to minimize the damage. Doing so will ensure your gums are healthy enough to protect your teeth and preserve your smile.
If you would like more information on gum recession, please contact us or schedule an appointment for a consultation. You can also learn more about this topic by reading the Dear Doctor magazine article "Gum Recession."
By Lynch Dental Center
October 24, 2019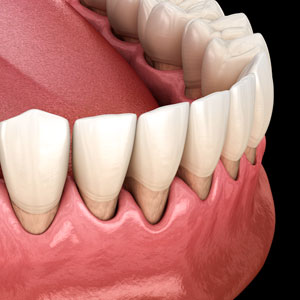 Calling someone "long in the tooth" is an unflattering way of saying they're getting old. The phrase refers to the effects of gum recession, in which the gums pull away from the teeth and cause them to appear longer. The problem, which makes the teeth vulnerable to disease as well as look unattractive, is a common problem for older people.
The most common cause for gum recession is periodontal (gum) disease. Bacteria and food particles, which make up dental plaque, trigger an infection. The deposits of plaque and calculus (hardened plaque) continue to fuel the infection as it continues to weaken gum tissue attachments.
As a result, the gums begin to lose their attachment to the teeth and pull away, exposing the root areas normally covered by the gums. Unlike the enamel-protected crowns (the parts of teeth you can see), the root is covered by a thin layer of material called cementum.
Although cementum offers less protection than enamel, this normally isn't a problem because the gums also act as a barrier against bacteria and other harsh aspects of the mouth environment. But without gum coverage, the root area becomes vulnerable to disease and is more prone to painful sensitivity.
Because gum disease is the main culprit, you can reduce your chances of gum recession by keeping your teeth clean of plaque through brushing and flossing, and regularly undergoing professional cleanings. If gum disease does occur, it's important to seek treatment as soon as possible: The earlier it's treated the more likely that any recessed gum tissues can regenerate.
If the recession is extensive, however, you may need clinical intervention to assist with its regrowth. This can be done by grafting tissue at the site that then serves as scaffold for new tissue to grow upon. Though effective, these microsurgical techniques are quite complex and involved.
So, if you suspect you have gum disease or recession, see your dentist as soon as possible for a full examination. It may be possible to restore your gums and enhance your smile.
If you would like more information on protecting your gum health, please contact us or schedule an appointment for a consultation. You can also learn more about this topic by reading the Dear Doctor magazine article "Gum Recession."
By Lynch Dental Center
February 16, 2019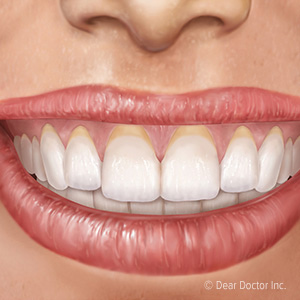 A "toothy grin" might be endearing, but not necessarily healthy. More of the teeth showing may mean your gums have pulled back or receded from the teeth. If so, it's not just your smile that suffers—the parts of teeth protected by the gums could become more susceptible to disease.
There are a number of causes for gum recession. Some people are more likely to experience it because of genetically thinner gum tissues. Over-aggressive brushing could also contribute to recession. But the most common cause by far is periodontal (gum) disease, a bacterial infection triggered by dental plaque accumulating on teeth mainly as a result of inadequate hygiene.
There are some things we can do to help heal and restore recessed gums, most importantly treating gum disease. The number one goal of treatment is to uncover and remove all dental plaque from tooth and gum surfaces, which can take several sessions and sometimes minor surgery if the infection has reached the tooth roots. But removing plaque and tartar (calcified plaque) is necessary to stop the infection and allow the gums to heal.
For mild recession, this may be enough for the gums to regain normal coverage. But in more severe cases we may need to help rejuvenate new tissue with grafting surgery. In these highly meticulous procedures a surgeon uses microscopic techniques to position and attach donated tissue to the recession site. The graft serves as a scaffold on which new tissue growth can occur.
While these treatments can be effective for reversing gum recession, they often require time, skill and expense. It's much better to try to prevent gum recession—and gum disease—in the first place. Prevention begins with daily brushing and flossing to prevent plaque buildup, as well as regular dental visits for more thorough cleanings. Be on the lookout too for any signs of a beginning gum infection like swollen, reddened or bleeding gums and see your dentist as soon as possible to minimize any damage to your gums.
Caring for your gums is equally as important as caring for your teeth. Healthy gums equal a healthy mouth—and an attractive smile.
If you would like more information on preventing gum recession, please contact us or schedule an appointment for a consultation. You can also learn more about this topic by reading the Dear Doctor magazine article "Gum Recession."