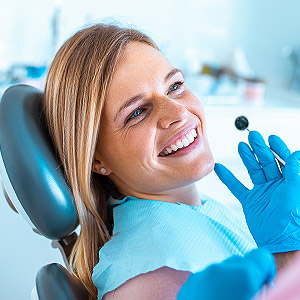 There are few things sweeter to hear than for your dentist to tell you your periodontal (gum) disease is under control. Depending on how deep the infection may have advanced, your treatment journey may have been a long one.
Unfortunately, while the battle may be over, the threat still lingers—once you've experienced a gum infection, you're at higher risk for a recurrence. To minimize that risk, you may need to undergo dental cleanings on a more frequent basis than before.
The average patient typically sees their dentist for cleanings every six months. The aim of these visits is to remove dental plaque, a thin film of bacterial-laden particles that is the prime source for gum disease. These cleanings are meant to supplement a daily habit of brushing and flossing, which should remove the bulk of plaque that builds up throughout the day.
After gum disease treatment, though, you may need to have these cleanings more frequently, and of a more involved nature than the normal cleaning. For patients who've overcome advanced gum disease, that frequency could initially be every other week, every couple of months or every three months. This frequency may change depending on the status of your gum health.
Besides a thorough cleaning, a specialized periodontal maintenance visit may include other interventions. For example, your dentist may apply topical antibiotics or other anti-bacterial products to keep bacterial growth under control.
Protecting you from further gum infection isn't totally on your dentist's shoulders—you also have a role to play. You'll need to brush and floss your teeth thoroughly every day, along with using any other hygiene products prescribed or recommended by your dentist. Daily hygiene will help prevent the buildup of dental plaque and subsequent bacterial growth.
You'll also need to keep a watchful eye on your gums for any emerging signs of infection. If you begin to notice swelling, pain or bleeding, contact your dentist as soon as possible to initiate remedial treatment.
Gum disease treatment can bring your gums back to a reasonable state of good health. But that state could be reversed with a returning gum infection. Only vigilance practiced by both you and your dentist can stop that from happening.
If you would like more information on post-gum disease dental care, please contact us or schedule an appointment for a consultation.